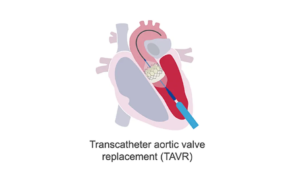 With the rise in heart disease, there are many latest technology & research in cardiac treatment. Transcatheter  Aortic Valve Replacement (TAVR) is one such technology which is becoming increasingly popular in cardiac treatment
Why is TAVI / TAVR needed?
Human heart has got four valves. If one of these valves is narrowed, then it is called stenosis. Aortic stenosis is the narrowing of the left sided aortic valve due to ageing or birth defect which results in obstruction of blood flow from left ventricular chamber to vital organs of our body. Many patients suffer from this and ultimately die suddenly due to pump failure. Cardiac surgeons often do not want to treat elderly people, needing bypass surgery or opening of the chest for high risk of death during open heart surgery because of associated co-existing illness. In this high-group, nowadays, aortic valve can be treated by a stent in patient groin just like conventional balloon angioplasty, called a TAVI/TAVR (Trans aortic valve Implantation / replacement).
Advantage of TAVI / TAVR
There is no need for opening the chest or long stay in a hospital. Patients are usually discharge on the third day and they start their normal activity immediate after discharge. Though this stent is very costly device, but it is life saving in these in-operable high-risk patients.
Which patients should go for TAVR?
Currently the procedure is reserved for those people for whom an open-heart procedure poses intermediate /high risk. For that reason, most people who have this procedure are in their 70s or 80 and often have other medical conditions that makes them a better candidate for this type of surgery.
TAVR can be an effective option to improve quality of life in patients who otherwise have limited choices for repair of their aortic valve.
Case study
Mr BD was a 76 years old patient with past history of prolong smoking, was presented with shortness of breath on exertion and chest discomfort. His echocardiogram showed severe obstruction at aortic valve. Because of existing comorbidities Mr BD was falling in intermediate risk category for cardiac surgery and more so he had severe fright for any surgical procedure to him.
Considering all the aspects Hospital found him an appropriate candidate for the TAVR procedure which was done in 2019. Patient recovered and became ambulatory in next 48 hours. After the discharge he is doing well.
https://healinindia.com/wp-content/uploads/2021/10/human-heart-design.jpg
667
1000
Securelogin
https://healinindia.com/wp-content/uploads/2021/10/Heal-in-India-Logo.jpg
Securelogin
2022-09-23 14:54:13
2022-09-23 14:54:13
TAVR Latest Treatment For Heart Valves