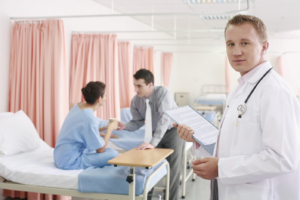 What is ARDS?
Acute Respiratory Distress Syndrome is a condition that occurs when inflammatory fluid builds up in the air sacs in the lungs, thus preventing the lungs from filling with enough air (oxygen). This causes severe respiratory distress and low oxygen saturation.
Who is at risk of ARDS?
ARDS is more likely to occur in patients who are critically ill like severe pneumonia, sepsis, pancreatitis, COVID 19, burns or critical injuries. The risk is greater in elderly people. Symptoms may include severe shortness of breath, labored breathing, low blood pressure, confusion and extreme exhaustion.
What is the prognosis of ARDS?
ARDS is a life-threatening condition. However, modern treatment methods include ventilation and advance heart-lung support systems like ECMO (Extracorporeal membrane oxygenation) in specialized critical care units today have greatly improved survival rates.
Can a person recover completely from ARDS?
This largely depends on the intensity of the disease and the duration of mechanical lung support that patient requires. Though some of them suffers from lung damage, treatment with ECMO has shown better long-term benefits when other modalities of treatment have failed. Pulmonary rehabilitation helps in faster recovery.
CONTACT US FOR YOUR MEDICAL TREATMENT
CALL OR WHATSAPP AT +91 81006 28482
https://healinindia.com/wp-content/uploads/2021/10/young-handsome-physician-medical-robe-with-stethoscope.jpg
667
1000
Securelogin
https://healinindia.com/wp-content/uploads/2021/10/Heal-in-India-Logo.jpg
Securelogin
2023-02-04 07:08:41
2023-02-04 07:08:41
Acute respiratory distress syndrome: Treatment & Recovery