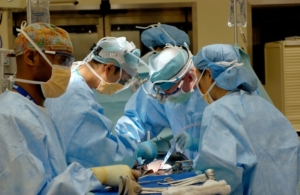 Plastic surgery as a specialty is not clearly understood by not only lap persons but also people associated with medical practice. Some think it is all about vanity, whereas others think it is something to do with transferring tissue from one place to another. Plastic surgery is used to repair and reconstruct missing or damaged tissue and skin. The main aim of plastic surgery is to restore the function and appearance of tissue and skin so it is as close to normal as possible. Plastic surgery is different from cosmetic surgery, which is a surgery carried our solely to change a person's appearance to achieve what they feel is more desirable look. The field of Plastic Surgery can be broken down into two main categories – reconstructive procedures and cosmetic procedures. Both are generally considered sub-specialities of plastic surgery.
RECONSTRUCTIVE PLASTIC SURGERY
Reconstructive Plastic surgery can be used to repair:
Abnormalities that have existed from birth, such as a cleft lip and palate, webbed fingers and birthmarks
Areas damaged by the removal of cancerous tissue from the face or breast
Extensive burns or serious injuries.
Plastic surgery can often help improve a person's self-esteem
Reconstructive surgery is considered medically necessary and is covered by most health insurance plans.
COSMETIC PLASTIC SURGERY
Cosmetic surgery is performed to enhance overall cosmetic appearance by reshaping and adjusting normal anatomy to make it visually more appealing. Breast augmentation, breast lift, liposuction, abdominoplasty, facelift, rhinoplasty, scar revision are popular examples of cosmetic surgery procedures.
HAND SURGERY
Hand surgery is a specialized branch of plastic surgery which deals with injuries of hand, hand fractures, post trauma or post burn deformities, replantation of amputated fingers or hand and all other aspects of problems in hands including tumours and nerve disorders.
NO MATTER THE TYPE OF PLASTIC SURGERY BEING PERFORMED, THE END GOAL ALWAYS SHOULD INCLUDE MAXIMIZING THE COSMETIC RESULT
HOW ARE THEY SIMILAR?
No matter the type of plastic surgery that is being performed, the end goal should always include maximizing the cosmetic result as much as possible.
We often take normal functions of our body for granted, but realize it's worth when function of a body part is lost. Imagine the plight of an elderly man who comes to you with a hole in front of the neck following cancer surgery and a failed reconstruction and is unable to eat from mouth. Smile on his face when he takes a first sip of water after a successful reconstruction is unforgettable. Plastic surgery is not all about vanity, it contributes significantly in changing your life. In short, it makes a difference.
CONTACT US FOR YOUR MEDICAL TREATMENT
CALL OR WHATSAPP AT +91 81006 28482
https://healinindia.com/wp-content/uploads/2021/10/face-skin-check-before-plastic-surgery-picture-id1012478500.jpg
300
500
Securelogin
https://healinindia.com/wp-content/uploads/2021/10/Heal-in-India-Logo.jpg
Securelogin
2023-06-17 08:36:03
2023-06-17 08:36:03
Doctor discusses the benefits of cosmetic and reconstructive plastic surgeries