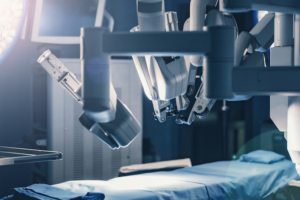 The AI-empowered active automatic robot CUVIS acts an additional pair of eyes to the surgeons and provides more accuracy in surgery and can be more beneficial for elderly & high-risk patients.
Till date, passive and semi-active robots have been used in different orthopaedic surgeries. Now, the advancement of technology has tied a knot with medical science for the betterment of mankind. Keeping this in mind Hospitals have introduces AI-powered active automatic robot for joint replacement surgery.
Active robots like CUIVS has an active automatic robots arm which allows for pre-planning, simulation, size and orientation along with pre-operative determination and finally executes the bone preparation according to plan with zero error. It does all the steps of surgery automatically and the surgeon controls the robot with a hand-held remote. Though the whole process will be done by this active automatic robot the whole procedure will be controlled by the team of efficient orthopaedic surgeons lead by the operating Doctor.
---
ADVANTAGES
Human eyes can't distinguish two points closer than a millimeter but the robot can accurately assess measurements till one tenth of a millimeter. So, a surgeon can perform the joint replacement more precisely with utmost submillimeter accuracy.

---

Customized alignment is also another USP of using CUVIS in surgery. This is achieved with ultra-high precision in active robotic knee replacement. This restores the stability of walking. Thus, it's a safer technology.

---

There is 0% Human Error.

---

CUVIS also accelerates post-operative recovery because of its minimally invasive approach, smooth bone cuts, customized placement of implants, less blood loss and less pain, the recovery is accelerated.  It has a higher longevity for the implant.
https://healinindia.com/wp-content/uploads/2022/06/Robotic-Ortho.jpg
500
750
Securelogin
https://healinindia.com/wp-content/uploads/2021/10/Heal-in-India-Logo.jpg
Securelogin
2022-06-22 07:00:11
2022-06-22 07:07:08
AUTOMATIC ROBOTIC SURGERY FOR TOTAL JOINT REPLACEMENT